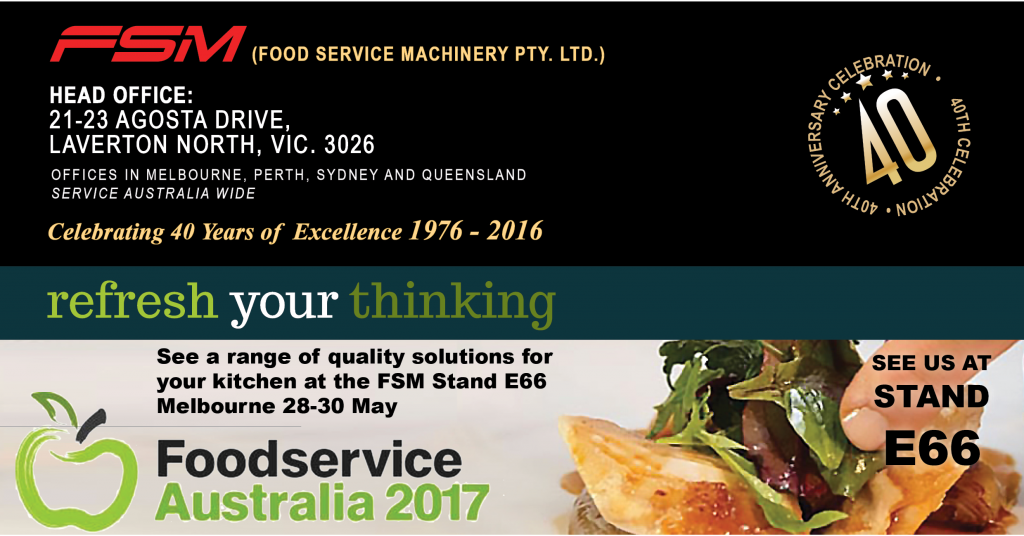 FSM P/L to exhibit at Foodservice Australia 2017 in Melbourne at the original Exhibition Buildings.
Now in its 40th Year of operation in Australia, FSM-PL continues to expand and bring new exciting products to market that improve throughput, reduce labour costs, improve quality and most of all – save money.
This May, we will be exhibiting a larger range of productivity-based systems and equipment for the end user, whether you are a small or new cafe or a large multi-installation QSR operation, at the Foodservice Australia 2017 Show.
Well known brands include San Jamar Dispensing and Safety solutions, Bonn Microwaves, Australia's most popular and trusted name, with the complete range on display, VITO Oil Filtration Systems to extend your frying oil life by up to 50% whilst keeping frying quality at its best, world-renowned Hatco Conveyor and Pop-Up Toasters and Pasta Cookers, Europe's leading Stick Blender manufacturer, Dynamic, with a huge range to suit anyone's needs, Yellow Commercial Tapware, the most trusted name throughout Australasia, and much more to see.
We'll be there so you can talk to our sales professionals who understand your needs because most of our employees come from a chef/cooking background or have been living and breathing the industry for longer than they care to admit.
No matter what your needs may be, you will receive the best of our attention and advice on the most efficient solutions to some of your most worrying problems – we have the experience and depth of knowledge to make your visit to our stand worthwhile.
We look forward to meeting you there!